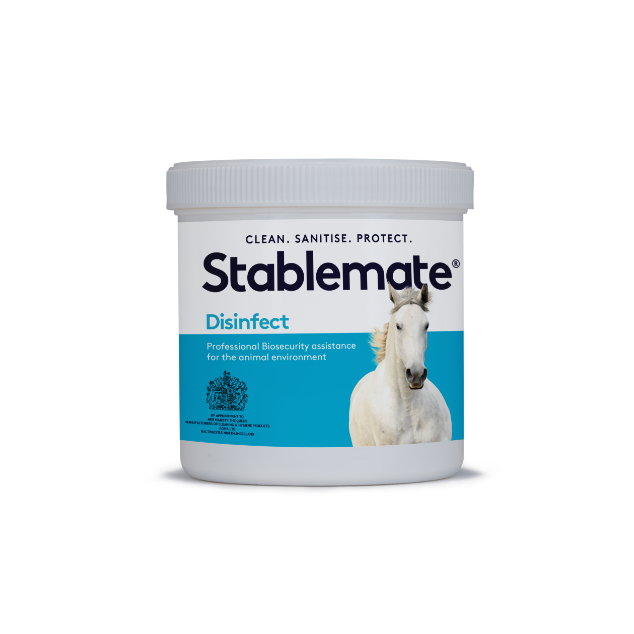 Stronger support for your star. Enhance biosecurity by eliminating
strangles and ringworm.
Protect your horses from harmful viruses, bacteria and fungi by keeping their spaces clean, sanitised and safe with Dis-in-fect by Stablemate. DEFRA-approved for general and specific orders (including foot and mouth, swine vesicular, poultry orders, avian influenza and tuberculosis) these effervescent tablets provide a cost-effective disinfectant with high dilution rates, accurate dosing, and a long shelf life of up to 5 years.

Achieve accurate dosing by simply adding a tablet to the specified volume of warm water (40⁰C) for the required application, see the tables here.

Thoroughly wet the cleaned surface with the disinfection solution by the most suitable means, such as a trigger spray or disposable cloth.

Check the solution strength weekly using test strips. Repeat addition when strength drops below the recommended amount of available chlorine.
Tested to EN14476:2013+A2:2019 – Virucidal activity against all enveloped viruses including human influenza viruses and corona viruses.
DEFRA Approved and validated to be effective against Foot and Mouth, Swine Vesicular Disease, Avian Influenza, bacteria, mycobacteria, spores and fungi.
Versatile for daily routine disinfection use in all livestock facilities, stables, kennels, markets, holding pens, transport and veterinary.
Dis-in-fect Data Sheet
For specific information regarding our testing, test results, and the Biocidal Products Regulations please contact us at enquiries@stablemateagma.com or +44 1434 320 598.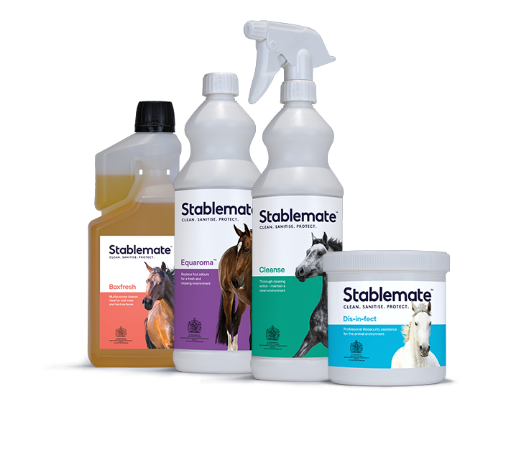 Stablemate Introductory Pack
New to Stablemate? Try our range of equestrian cleaning products to discover how effective and easy-to-use each solution is.